Looking for the best water filter for you in 2023? Concerned about the quality of your tap water? Want a better alternative to bottled water? Need to replace an existing filter?
Choosing a water filter to fit your needs can be hard as there are so many products available on Amazon and other online market places. How do you find the best water filter for you?
In this article we will take you through the steps and list the top 8 water filtration products with a wide range of uses and prices.
Concerned about drinking water quality?
If you are concerned about the quality of your tap water or simply don't like the taste then you are not alone. Public tap water is strictly regulated but more and more people are concerned about the health impact. Chlorine by-products, heavy metals such as lead or mercury, PFAS, nitrates, arsenic, pipe corrosion, limescale, microplastics and more. The list goes on.
Bottled water is even worse despite the perception that it's healthy. According to hundreds of studies it most bottled water contains microplastics and hormone disrupters. Furthermore it's inconvenient, expensive and terrible for the planet.
How did we choose the best water filters for this guide?
We tested and evaluated over 100 different water filters in the past couple of years. Based on this we narrowed it down to a few great candidates. We evaluated based on filtration, installation/setup, convenience, value for money, sustainability and credibility of the product/brand.
Why do you need a water filter?
Generally public tap water in North America and Europe is considered safe to drink. However, this doesn't mean that it tastes great or that the water that flows out of your faucet is healthy.
The three most common types of tap water are:
Public tap water that is safe to drink – in this case you generally just need a water filter that improves the taste and reduces limescale
Public tap water that may not be safe to drink due to local contaminants or pipes – you need a certified filter for the contaminants of concern such as lead, bacteria, etc
Well water – you need a certified filter for bacteria and other contaminants that may exist in your well
Tapp Water and several other companies will be offer a solution for all three cases.
Bottled water is worse than tap water in terms of health as it contains microplastics and hormone disruptors according to multiple studies. There is considerable evidence that plasticizers from plastic packaging used for beverages and food cause hormone disruption and this impacts reproduction and increased risk of miscarriages. In addition to this bottled water may contain the same kind of contaminants as public tap water including PFAS, arsenic and bacteria. Finally the production and disposal of water bottles is terrible for the environment.
To be certain that you drink healthy water, an affordable high quality water filter is a great alternative.
Type of water filters available
There is a wide variety of water filters available today including pitcher filters, faucet filters, under-the-sink-filters, counter-top and other formats.
As tap water enthusiasts we've tested and summarised the pros and cons for each alternative:
Filter Type
Pros
Cons
Pitcher/Jugs (e.g. Brita or PitcherPro by TAPP)
No installation
Efficient in reducing chlorine for improving taste
Slow flow and low capacity
Takes up space in fridge
Faucet filter (e.g. TAPP)
Easy installation without plumber on 95% of faucets
High flow and filter capacity
Removes all common public water and pipe contaminants
Some faucets are incompatible
Generally don't reduce water hardness
Gravity filter (e.g. Berkey)
No installation
Efficient in removing common contaminants
Slow flow
Space on kitchen counter
Water temperature rises to room temperature
Under-the-sink / Reverse Osmosis
Very high water filtration efficiency of most contaminants
Once installed "invisible" in the kitchen
Expensive to install and maintain
Slow flow rate
Water and energy wasting
Bacteria issues common
Removes all healthy minerals
Flat taste and not quenching
Distillation filters (e.g. Mitte)
High water filtration efficiency
Slow flow rate
High energy use
Removes all healthy minerals (so have to be added)
Flat taste and not quenching
Space on kitchen counter
UV filters
Very efficient in killing/removing bacteria
Energy efficient
Can be installed under-the-sink or combined with other filters
Does not remove other contaminants from water such as heavy metals, salts, chlorine or man-made substances like petroleum products or pharmaceuticals
Require yearly maintenance
Whole house filters
Efficient in removing most contaminants, softening water and more
Installation can be hidden
Filters all water including shower
Very expensive to install and maintain
Take up a lot of space
Some use a lot of energy
Issues if not properly maintained
Read our guide about common tap water contaminants and what TAPP filters and remove and reduce.
How do I know that the water filter works?
Unfortunately there are a lot of water filters sold that make unsupported claims about their efficiency. Don't trust claims such as 99% chlorine removal without evidence.
Always make sure there are independent lab tests and certifications of the filter you are planning to buy. As an example of a good certification see the independent lab test of EcoPro by TAPP Water.
Note: In the US NSF certification can be a good start but for Europe there is no such standard. Furthermore most filters are only certified for NSF-42 which basically means that they reduce chlorine but nothing else.
What's the best water filter for your needs?
Although there are some general rules and guidelines the best option is often based on the needs for each household. This includes
Where you live and the quality of the local water – Do you have a potable public water source? Are the pipes in the building old? Is it very hard water, highly chlorinated or do you have specific local contaminants causing an issue?
Young children/infants – If you have young children then you should be extra careful as they are much more sensitive to small amounts of contaminants such as lead, nitrate or microplastics
Kitchen design – Do you have a fancy design kitchen or a basic kitchen? Do you want a product that is integrated in the kitchen? Or do you want a product that is easy to install and remove yourself?
Plumbing skills – If you are a hobbiest plumber then you will have a lot more options in terms of installing a system yourself. Most people don't want to touch pipes due to risk of causing leakages and other damage.
For most households the most affordable and best water filter is a jug or faucet water filter. But if you have the extra budget then an under-the-sink filter or whole house filter could also be a good solution.
Top 9 Best Water Filters 2023
1. Best Water Filter Jug
Water filter jugs have been used for 40 years since the first Brita filter was invented. They are the most sold water filtration product in the world. Until recently they were all produced in ugly plastic materials. US based Soma changed this in 2013 with the launch of a glass pitcher filter. Since then there has been little innovation water filter jugs.
In December 2021 TAPP Water changed this with the launch of PitcherPro.
PitcherPro by TAPP Water filters over 80 contaminants including chlorine, limscale, pesticides, heavy metals and pharmaceutical. The technology is a 4-stage filter including activated carbon fiber, Polypropylene screen, limescale inhibitor and Alkaline and Magnesium balls. Simply put it delivers great tasting water with minimal plastic waste.
A big advantage of PitcherPro is that it filters instantly on the way out at about 1 L / min. This means that there is no waiting time. You can just fill up your drinking water glass.
The carafe is made of high quality Borosilicate glass and holds approximately 1.5 L of water. Fill up and serve.
The plastic casing of the cartridge refill can be separarated from the other materials making the cartridges fully recycable.
Find the full benchmark in our water filter jug comparison with Brita, BWT, Philips and Laica. We especially like that PitcherPro is made of glass with a minimal use of plastic.
Don't take our word for it. The Telegraph selected PitcherPro as best in test for taste and design in their big water filter jug review.
Cost:
€49 for carafe + first filter and approximately €60 per year
Where to buy:
2. Best Gravity Water Filter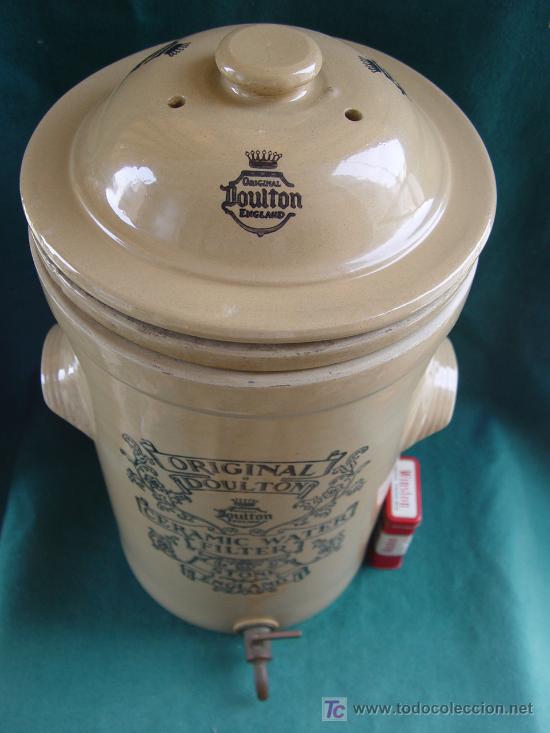 Gravity filters have been used for hundreds of years and can be very efficient in removing pathogens and chemicals such as chlorine, heavy metals, limescale and more. Two of the most known brands are Doulton (the original gravity filter) and Berkey. In recent years Berkey in particular has built up a great reputation in terms of filtration. See our comparison of TAPP Water vs Berkey.
Berkey is more expensive than most other filters but wins in our tests. One thing they don't tell you however is that the filters should be changed a lot more frequently than stated. Multiple tests have found bacteria build up after just 3-4 months. Furthermore a recent review by the New York Times showed that many of the filtration claims by Berkey were false.
Cost:
About 250-400 euro for the gravity filter and 150 euro per year for the refill cartridges assuming that you replace them every 6 months.
Where to buy:
3. Best Tap Water Filter (faucet filter in the US)
PUR and Brita invented this category and have been making faucet water filters for 20 years. Add to this copycats like Waterdrop and Geyser. For the past 10 years these companies have just been selling the same products without improvements.
EcoPro Compact is the Dyson of simple to use water filters. It's small, affordable, environmentally friendly, easy to use and provides highly efficient filtration. EcoPro Compact was launched in 2022 and filters over 100 common contaminants including e.g. chlorine, limescale, pesticides, herbicide, lead, most pharmaceuticals, and microplastics. The tap filter is also available as EcoPro a long lasting bigger version.
Both filters contain a 5-stage activated carbon filter using activated carbon made from organic coconut shell by Jacobi. The highly compressed carbon block used in EcoPro and EcoPro Compact filters particles as small as 1 micron but leaves most of the healthy minerals.
The cartridges are made of organic coconut shell and biodegradable plastic and last about 3 months. Once used up they can be disposed with organic waste.
The products include MyTAPP which that helps you monitor filter status, savings, eliminated bottles, CO2 reduction and receive e-mail reminders.
Check out our complete reviews of how EcoPro compares to Waterdrop, Geyser, Philips, Berkey, Brita On Tap and more.
Cost:
From €49 and €60 per year.
Where to buy:
4. Best faucet water filter for well water
If your tap water is provided by a well at home then you've probably been told that the only alternative is a Reverse Osmosis filter. This used to be the case but thanks to recent technology innovation there are now simpler and more affordable alternatives available.
The Ultra Facuet Filter by TAPP Water removes 99.99% of bacteria and viruses while retaining healthy mineals such as magnesium and calcium from your well. The result is safe and great tasting drinking water.
We've covered this in a separate article about the Best Well Water Filters.
Cost
From €49
Where to buy
Tappwater.co (contact us to buy in Spain)
5. Best Under-the-sink Water Filter
If you have a beautiful design kitchen and want a filter that is integrated then an under-the-sink water filter is usually the best option. There are a wide range of under-the-sink water filters offered from brands such as Bluewater (see Best RO filter below), Grohe, Culligan and Pentair.
Our favorite non-RO filter is Grohe's beautiful integrated solutions. They offer chilled, filtered and even carbonated tap water straight from the tap.
Cost
From €1500
Where to buy
Visit Amazon or a local Grohe dealer
6. Best RO Water Filter
A subcategory of Under-the-sink water filters is Reverse Osmosis filters. Historically these have been water wasting, provided a slow flow-rate, prone to grow bacteria and removed all the healthy minerals creating a flat taste. But recent technology enhancements are changing this.
Bluewater has reinvented the whole category of RO filters creating products with high capacity, no bacteria growth and remineralising the water. The Bluewater SuperiorOsmosis technology cleans water faster and more efficiently than other reverse osmosis systems. The Pro purifier achieves up to an impressive 60% clean water delivery rate, for greater efficiency at home, in the office, and in hotels and restaurants.
Cost: From €1000
Where to buy:
Visit bluewatergroup.com
7. Best Wholehouse Filter
If you want clean tap water everywhere in your house including kitchen, bath rooms and other water outlets then a wholehouse water filter can be a great solution although it's usually very expensive.
After extensive testing, our top choice is Aquasana whole house filters. Our co-founder Alex Schwarz says "This is the best wholehouse water filter by far. Extremely reliable, takes care of all issues including limescale and chlorine and the water tastes great".
Aquasana Rhino includes a pre-filter for sediment, a copper-zinc & mineral stone to reduce water-soluble heavy metals, and scale and inhibits bacteria and algae growth and activated carbon to reduce herbicides, pesticides and other chemical compounds that may be present.
We like the filtering technology which is water and energy efficient versus e.g. reverse osmosis (RO). Each filter lasts 4 million liters of water or probably a year or more.
Cost:
Starting from €2,500 incl water softener + installation cost.
Where to buy:
https://www.aquasana.com/whole-house-water-filters
8. Best Distillation Filter
The distillation filters we've tested are very slow and inefficient. German based Mitte made a great attempt to change this in 2019 with a beautiful distillation filter that could add minerals and taste. Unfortunately it never launched. Therefore we currently don't have a favorite.
Please feel free to contact us if you have a recommendation that we can add to this list.
9. Best Outdoor Filter Bottle
Need a filter while hiking, travelling or simply on the go without access to filtered water. A filter bottle can be a great option. We've previously reviewed the top 10 refillable water bottles.
Based on tests of over 20 water filter bottles our current favorite in terms of price-performance is BottlePro Adventure by TAPP Water. Made of high quality stainless steel and amazing filtration at a reasonable price.
Our runner-up favorite is Grayl which although more expensive and is probably the highest quality plastic outdoor bottle filter available.
Cost
From €49 for BottlePro and €89 for Grayl
Where to buy
Visit their websites or Amazon in your local market.
Summary Best Water Filter 2023
It's a wrap. That was our guide to the Top 9 Best Water Filters for 2023. We are obviously slightly impartial but we hope that this helps you find the best water filter for you.
Also check out our "Best Shower Filter Guide" and "Best Water Bottle Filter Guide".
Comments? Questions? Missing products. Please comment or contact us.