Looking for the best reusable water bottle? Want a refillable water bottle with great taste, that keeps the content cold or warm, that is easy to clean and that survives wear and tear? Simply put a bottle that will always keep you hydrated.
As hard-core filtered tap water drinkers our team has spent the last 5 years testing the products available and even launched our own bottle. To identify the best water bottles we therefore asked our team members for their personal favorites and summarised the list here.
And yes, filtered tap water is generally healthier than single-use plastic bottles.
Here's our top 10 list of the best reusable water bottles in 2023 in no particular order:
1. Klean Kanteen
The Stainless Unibody Bamboo Cap is made from a single piece of stainless steel, the cap is strong and durable, with a handy steel bail. Beautifully finished with bamboo. The logo is laser etched onto the bottle, replacing paint. With nothing to scratch or wear off, it's as durable as the bottle itself.
Kanteen says handwash only does not submerge in water with high temperatures or harsh detergents. To prolong the life of the bamboo, treat it periodically with mineral oil (standard cutting block oil) or beeswax (w/mineral oil).
Website: kleankanteen.com
What we like:
This is the most durable refillable water bottle. Our CEO and co-founder Rocio has been using the Klean Kanteen Stainless version with a bamboo cap since 2015 and says the quality is one of the best things.
2. LARQ self-cleaning water bottle
The LARQ water bottle is unique in that it's capable of cleaning itself. A common issue with water bottles is that they that provide a great home for bacteria to grow. Although most of these bacteria don't pose any threat to humans it can be nuanced. The LARQ bottle uses an LED light, inside the cap, which, when switched on (by pressing a button on the top of the lid), is said to purify 99.9% of bacteria and viruses.
The bottle does not filter chlorine, heavy metals, microplastics, and other substances that can be found in tap water and nature so should only be used with clean tasty tap water.
Website: https://www.livelarq.com/
What we like:
LARQ was the first to create a self-cleaning water bottle and should be given credit for making a slick product that leads the way in this category.
3. Nuvoe Pod & Bottle
Nuvoe comes both as an individual device for cleaning (like the LARQ bottle) any stainless steel bottle or and with Nuvoes own water bottle. The Nuvoe Pod is a UV-C sanitizer designed to live inside the water bottle and eliminate up to 99.9999% of germs and viruses. It's installed in 2 easy steps. (1) Put the pod inside and attach the Puck on the outside and the Pod will magnetically snap into place. (2) Shake for 2 seconds to start, or for 4 seconds to start a deep clean. The beep will confirm the cycle has started.
Combine the Nuvoe with a water filter from TAPP Water and you will always have clean tasty tap water.
Website: https://mynuvoe.com/
What we like:
Our head of marketing & brand Michaela has been boasting about this great innovation since she first found it on Kickstarter. Why buy a new LARQ bottle if you can make your existing bottle self-clean?
4. Hydro Flask With flexcap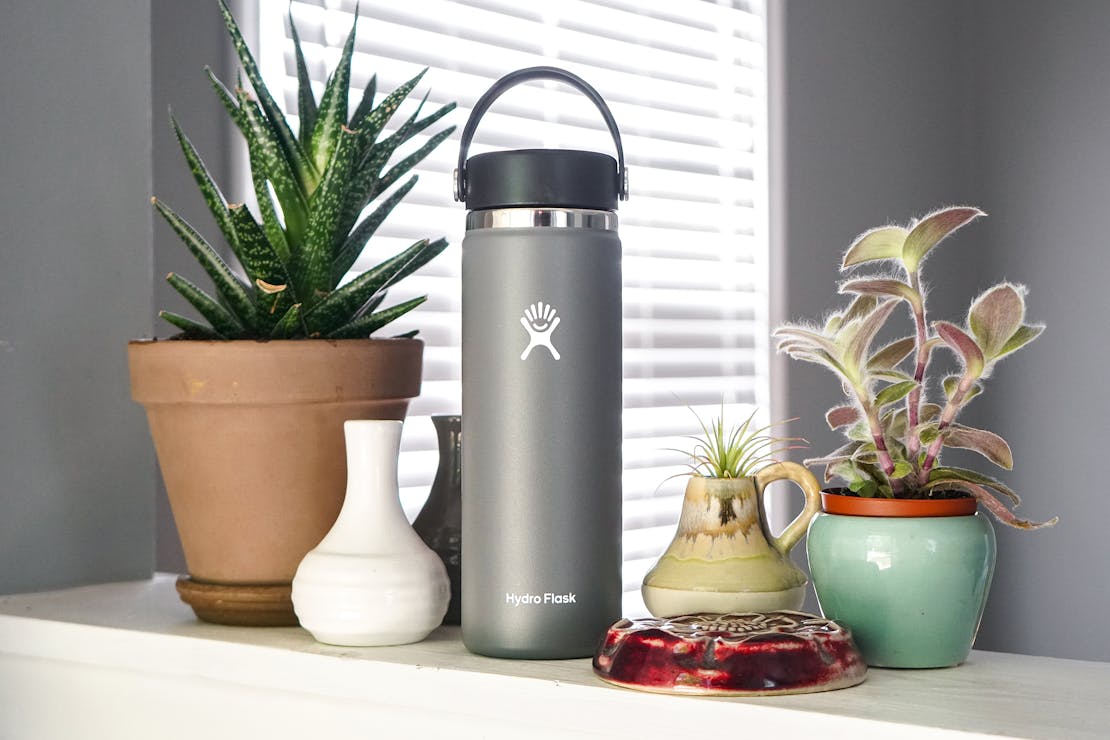 Hydroflask is often listed as one of the best reusable water bottles. The bottles are dishwasher safe and claimed to keep the water ice cold for 24 hours, and hot for 12. They are made of 18/8 pro-grade stainless steel to ensure pure taste and no flavor transfer. They are also compatible with the Hydro Flip Lid and Wide Mouth Straw Lid which is great.
Hydro Flask supports non-profit organizations focused on building, maintaining, restoring, and providing better access to parks.
Website: hydroflask.com
What we like:
Our co-founder Magnus Jern says the wide mouth and accessories are fantastic. You know that this bottle will last for years even if your needs change.
5. Dopper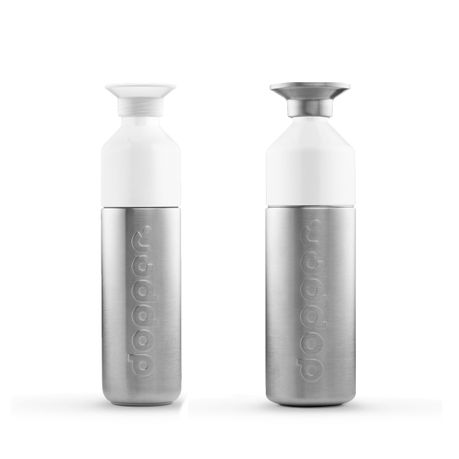 Dopper's mission is to achieve a world in which people are conscious of the environment we live in, where the amount of single-use plastic is reduced, and where everyone, near and far, has access to safe drinking water.
The Dopper insulated breaker bottles are perfect to help you drink from the tap, whatever the weather. Come hail, sun, or snow, the bottle will keep your water hot for 9 hours or cold for 24. Bonus: the bottle-and-cup-in-one design means it's easy to fill and easy to clean. It's also one of the few dishwasher (at up to 65 degrees) friendly bottles together with TAPP.
Website: dopper.com
What we like:
Dopper says that you shouldn't call them a bottled water brand. We salute them for creating the best reusable water bottle category of their own with the bottle and cup design.
6. bkr Glass Bottle
"Inspired by warrior women crisscrossing the globe in the name of fashion, slinking around London in trusty pink ballet flats, wearing them until they look like dirty Band-Aids, a Rossini-centric soundtrack in a store where everyone speaks with French accents, hair pulled back fresh and clean off the face, a sheer blouse with elbow-length sleeves and rose gold buttons."
The bkr has gained a dedicated following among fashionistas. The glass water bottle with soft silicone sleeves is clean and effortless. The standard 500 ml size is perfect for every day, in the car, and gym time. The cap is no-leak, BPA-free, phthalate-free plastic with a silicone seal. The bottle is dishwasher-safe on the top rack. Store with cap off, don't freeze or microwave.
Website: https://mybkr.com/
What we like:
bkr is the Apple of refillable water bottles. We are confident that they will make our top 10 reusable water bottle list in 10 years from now.
7. Retap
Retap makes reusable bottles, carafes, and water glasses designed to drink tap water. Drinking from your Retap bottle feels just like drinking from a normal glass, delicious. And if you don't like tap water as it is, Retap also offers instant flavour sticks giving ordinary tap water a natural hint of fruit and berries. One of the things we like about ReTap is that they encourage drinking water from the tap whether you prefer your water filtered or straight. Retap is one of the easiest, most inexpensive, and most eco-friendly ways to stay hydrated.
Website: https://retap.com/
What we like:
The simplicity of Danish design is always what strikes you. It might not be the most practical bottle but it's the most beautiful on the dinner table.
8. 720 Dgrees
The robust premium stainless steel insulated bottle noLimit impresses with its longevity. It's "noble powder coating" makes it an absolute eye-catcher. They also claim that the keepDGREE technology keeps drinks cold for up to 24 hours or warm for up to 12 hours. The bottles are made of food-safe premium stainless steel quality ensuring drinking without BPA, BPS, or phthalates.
Website: https://720dgree.de/
What we like:
This is a piece of engineering and is described as such. If Porsche had a water bottle this would probably be it.
9. S'well
The S'well bottle is a triple-layer vacuum-insulated, high-grade 18/8 stainless steel bottle. It has a sleek silhouette and a wide collection of beautiful designs. S'well claims the technology used will keep beverages cold for 24 hours or hot for 12. The standard 500 mL bottle is BPA-free & toxic-free. Hand-wash only.
Website: https://www.swell.com/
What we like:
Whatever color or design you like there will be one for you. S'well probably has the widest range of refillable water bottles available.
10. BottlePro by TAPP Water
Last but not least BottlePro by TAPP Water. With so many great water bottles available you could ask why we would create yet another one?
Our objective was to create a beautifully simple and convenient bottle for clean great-tasting tap water everywhere. It's the only bottle that filters the water for great-tasting tap water from almost any source.
The 4-stage microfiltration filter removes chlorine, microplastics, pesticides, and over 80 other contaminants. The bottle's double stainless steel wall and vacuum-sealed insulation keep water cold for up to 24 hours. The premium stainless steel (100% BPA-free) makes it totally resistant to oxidation, and corrosion and does not leave a metallic taste in the water. The hermetic lid is made of silicone to prevent any type of water leakage. The strap makes it easy to carry the bottle wherever you go.
Optional Ahlstrom Adventure filters are available for use while traveling to countries or outdoors with non-potable tap water.
Website: tappwater.com (Bottle is currently only available on tappwater.co/es/ but will be available internationally soon)
What we like:
The only bottle in our test with filtration for clean and great-tasting water wherever you go. Allround is one of the best reusable water bottles that ticks all the boxes.
What is the best reusable water bottle in 2023?
We've listed our top 10 water bottles but we let you be the judge. Give us your feedback and comments below on your favorite refillable water bottle. Which one is the perfect sustainable Christmas gift?
Notes for the reader
As part of this article, we also researched bacteria in reusable water bottles. This is what experts say:
"Most bacteria found in reusable water bottles isn't bad bacteria with the same bacteria often found in a healthy gut." Bad bacteria usually from water sources that have not been treated or disinfected.