Thinking about buying a water filter jug? Want a product that is high performing and beautiful? What is the best alternative to Brita jugs available today? How does Brita, Philips and BWT water filter jugs compare to other products like PitcherPro by TAPP Water?
In the UK they are normally referred to as a water filter jug whereas in the US a water pitcher filter.
We've benchmarked Brita and other water filter jugs such as BWT, Philips and Laica with PitcherPro by TAPP Water. For the purpose of this benchmark the products are Brita Marella, BWT Vida, Laica bi-flux and Philips AWP2936. The jug comparison is based on the European versions of the products. We may also do a US comparison in the future.
The comparison looks at the most important attributes including brand, material (plastic or glass), filtration (contaminants filtered), certifications, water flow, taste, capacity, cartridge refill capacity and taste.
Brand
In water filtration it's important to buy from a brand you can trust and that aligns with your values in terms of design, quality and sustainability. 
Brita: The original water filter jug maker based in Germany with manufacturing worldwide.
Philips: Philips water filters are designed, developed and produced under license by AquaShield Health Technology in China.
BWT: The Austrian company has been producing water filters for 20+ years
Laica: Italian company that has been making consumer appliances for 50 years and water purifiers for about 10 years. 
TAPP Water: UK and Spain based company on a mission to provide sustainable, simple and affordable alternatives for clean tasty tap water. Founded in 2016.
Water Filter Jug Material 
Not all water filter jugs are created equal. Due to consumer price pressure most are produced with cheap but durable ABS plastic. All plastic leaches and therefore it's essential to test and make sure that the leaching plastic is not toxic.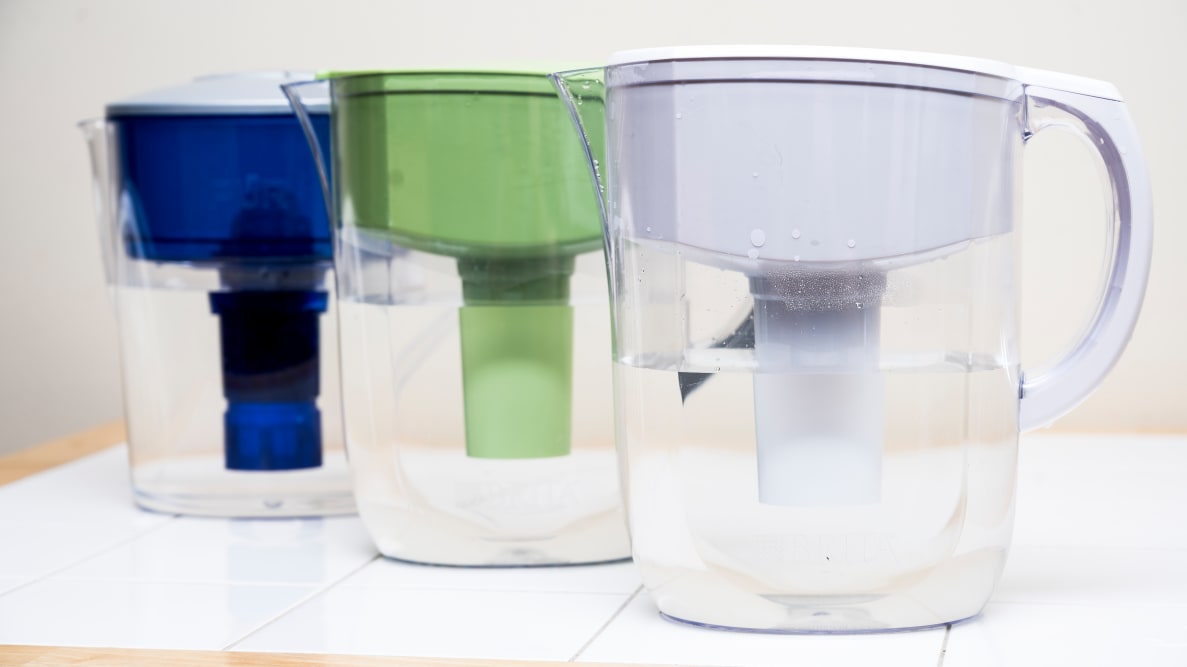 Brita, BWT and Laica: All products are made of durable BPA free plastics. 
Philips: Unknown 
TAPP Water: Borosilicate glass carafe and BPA free plastic for the cap and cartridge
Contaminants filtered
Historically most water filters including Brita simply used granular activated carbon to filter the water for better taste and ion exchange resins to reduce limescale. In the past couple of years water filtration technology has vastly improved with activated carbon fiber, ultrafiltration layers and new materials that can further reduce limescale and improve taste. As a consumer it can be very difficult to compare different filters. We've tried to summarise the most important aspects.
| | | | | | |
| --- | --- | --- | --- | --- | --- |
| | Brita Maxtra | BWT | Laica | Philips | TAPP Water |
| Claim reduction | Chlorine, limecscale and heavy metals | Chlorine, limecscale and heavy metals | Chlorine, limecscale and heavy metals | Chlorine and limecscale  | 80+ contaminants |
| Taste* | Improved | Improved | Improved | Improved | Great |
| Chlorine | > 98% | Yes | Yes | Yes | >98% |
| Pesticides & Herbicides | N/A** | N/A | N/A | N/A | >98% |
| Pharmaceuticals | N/A | N/A   | N/A | N/A | >98% |
| Microplastics | N/A | N/A | N/A | 95% | >98% |
| Limescale | Yes | Yes | Yes | Yes | >80% |
| PFAS | N/A | N/A | N/A | Yes | >98% |
* Based on blind tests ** N/A = No information Available
In terms of taste we especially noted that PitcherPro provides great water for tea and coffee.
Certifications 
Marketing claims are often false or untrue when it comes to water filtration. Therefore it's important to ensure that all claims are supported by independent lab tests and certifications. 
Brita: None specified in Europe. Brita US (Clorox) has NSF 42.
BWT: None specified in Europe
Philips: None specified in Europe
Laica: Claims independent tests performed by lab in Germany but doesn't share the lab results.
TAPP Water: Independent tests by multiple labs in Europe. Tests available to download from our website.
Water filter jug flow-rate
Want to drink a glass of water, prepare coffee or tea or need water for cooking. How long does it take to filter the water? This is where the flow-rate of the filter jug becomes important.
For all the filter jugs except PitcherPro by TAPP Water the water is filtered when you fill up the pitcher which means you normally have to wait 3-4 min before you can use the water. With PitcherPro it's instant. The reason for this is the smart design with the glass pipe that allows oxygen to flow back into the pitcher.
Brita: 0.1-0.2 L/min
BWT: 0.1-0.2 L/min
Philips: 0.2-0.3 L/min
Laica: 0.2 L/min
TAPP Water: 1 L/min
Filtering on the way out has its pros and cons of course. Some people prefer to put a big jug in the fridge in advance and then fill up a glass of water later. Compared to this PitcherPro by TAPP Water may be perceived as slower.
Capacity/ volume per water filter jug
For traditional filter jugs like Brita and BWT the capacity is critical as you normally pour up the water, wait 5 min and then put it on the dinner table. Low capacity means that you have to constantly wait for more water to be filtered. With the TAPP Water glass pitcher the filtration is instant which means that the capacity is not so important. 
In our test of the standard models all of them had similar capacity. 
Brita: 1.4 L filtered
BWT: 1.4 L filtered
Philips: 1.5 L filtered
Laica: 1.2 L filtered
TAPP Water: 1.45 L filtered
Larger capacity models are available by most of the brands but the larget models are typically too big for a normal size fridge.
Filter Cartridge refill lifespan
Following the instructions in terms of filter refill changing intervals is super important. If you use a refill longer then the efficiency of the filter will go down and you may also experience bacteria growth inside the filter that makes the output water worse than the input. 
How long will each cartridge last based on the specifications of the manufacture?
Brita: 100 L / cartridge or 30 days
BWT: 100 L / cartridge or 30 days
Laica: 150 L / cartridge or 30 days
Philips: 300 L / cartridge or up to 3 months
TAPP: 400-600 L / cartridge or 3 months
TAPP Water states that the length may very depend on water hardness. For very hard water the capacity is lower.
Filter Jug Refill change Reminders
How do you know when to change the filter jug refill?
The pitchers by Brita, BWT, Laica and Philips include a digital timer which will simply count down the 30 or 90 days of use. If you don't use the filter for 15 days out of 30 then it will still tell you to change after 30 days.
TAPP Water doesn't include a timer for sustainability reasons as it's completely unnecessary. Instead an online service tracks the usage and provides notifications by email or an app when it's time to change refills. We think this is better but of course it's up to you. to decide.
Sustainability of filter jugs
Generally all filter jugs are more sustainable than buying bottled water. But if you're a zero waste or low waste household then you will want to know which filter is more sustainable. The best measure would be carbon footprint ans plastic waste but as none of the manufacturers specify this we will have to go by other attributes such as materials and cartridge disposal.
Brita, BWT, Laica and Philips: BPA free plastic that is very difficult to separate for recycling. 
TAPP Water: With a strong scissor you can separate the plastic from the rest of the cartridge and recycle and  dispose of the parts.
Summary comparison 
What water filter jug should you buy? Here's a summary table to help you choose the best product for you:
Brita
BWT
Laica
Philips
TAPP Water
Brand
Germany
Austria
Italy
China
Spain and UK
Material
Plastic
Plastic
Plastic
Plastic
Glass
Filtration
Limited
Limited
Limited
Limited
80+
contaminants
Certifications
No
No
No
No
Yes
Filtration Flow-rate
0.2 L/min
0.2 L/min
0.2 L/min
0.2 /min
1L/min
Capacity
1.4 L
1.4 L
1.2 L
1.5 L
1.5 L
Reminders
Timer
Timer
Timer
Timer
Personalised
E-mail and APP
Sustainability
–
–
–
–
Recyclable
Based on the products listed at the beginning. Note that some of the brands have multiple products whereas the specs may differ.
Have comments/questions? Disagree with our recommendation? Please feel free to contact us over chat or [email protected]